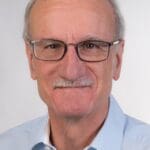 Andreas Pfaltz was born in Basel (Switzerland). His grandfather – a chemist – often talked about the natural sciences and chemistry and those talks sparked Pfaltz's interest in science. He studied Natural Sciences at ETH Zurich where he also pursued his PhD in Organic Chemistry (1978) under Albert Eschenmoser's supervision. He then moved to Columbia University for a two-year postdoctoral position before returning to ETH Zurich to lecture and create his research group. In 1990 he joined University of Basel as an associate professor and became full professor three years later. From1995 to 1999 he was a director at the Max Planck Institute for Coal Research (Mülheim-Ruhr) before returning to University of Basel, where he is now Emeritus Professor. He has been part of ICIQ's Scientific Advisory Board since the institute's creation in 2001 until his retirement this year.
What would you consider has been the greatest achievement in your career?
When I started my research career 40 years ago, asymmetric catalysis was a young field. Obtaining only the desired enantiomer was very difficult to achieve, so my lab's main research focus was to develop catalysts that allow running selective reactions. The fist catalyst we designed was inspired by my thesis work on vitamin B12. We imitated its natural ligand system – with a cobalt atom – to design a new simpler ligand that could be used in asymmetric catalysis. This became a successful approach and many groups went on to design ligands that were based on our first ones. From that, we moved on to develop other kinds of ligands which have also become standard ones with time. It's nice to see there are a lot of applications that go back to our initial work. Now there are many methods to achieve asymmetric catalysis – there are even several research groups doing this at ICIQ.
What did you enjoy the most about your job?
The freedom to investigate anything that interested me. Also, when you first create your group everyone is about the same age, but that changes over time. Working alongside enthusiastic students is great – it keeps you young!
What advice would you give young students who want to become excellent researchers?
To work on topics that really interest them; they shouldn't work on a topic just because it is fashionable, or there's a lot of funding and it might be easier to get some money…. I'd tell them to work on something interesting and important to them.
In your opinion what is the next big thing that should start been funded now?
Usually, the big things come because someone makes an unexpected discovery and that leads in a different direction. I'm skeptical that the Flagship programmes are the right thing to do: no one knows what the future will bring. Although I think these programmes are fine if they fund work that really requires collaboration of many groups within different fields, I believe great ideas come from unexpected places and so, I can't predict what the next big thing will be.
Can you tell me about a time you failed?
I've failed many times. I have had many ideas that I eventually had to give it up because they just wouldn't work – this happens many times and it is part of basic research. The key thing is that you shouldn't give up too early but also not too late. Of course, it depends on the situation, but once you have done enough experiments and can't come up with new ideas you should just say "ok, let's stop and do something else." And it's the responsibility of the research supervisor to realize when a project is not going to lead to success and to talk to the people involved and decide to do something new.
We see many women studying science at University including at PhD level; however, we do not see that many women working as researchers or academics. What do you think should be done to solve this?
I think this is a social problem and we should face it together. As a scientist, the only thing I could do is to encourage women to join my group and once they had their PhD, encourage them to go on into an academic career – and help them achieve that. I also believe role models are important, especially of women who actually went to have very successful careers. I think role models help other women follow the same path and we find a good example of this in crystallography. There is no apparent reason why this rather abstract and mathematical field would be particularly attractive for women. But, in 1964 Dorothy Crowfoot Hodgkin got the Nobel Prize in Chemistry and became a role model, so we later saw many prominent female crystallographers.
If I went to Basel what should I visit?
It depends on what you like, but the town has fantastic art museums. It also has a nice old town and it's close enough to France and Germany to reach them by bicycle!
ICIQ Questionnaire:
Favourite chemical element: nitrogen because it's essential for life
Favourite scientist: I don't have a favourite scientist, there are many…
Favourite invention: something that will become even more important in the future is the fuel cell – which, by the way, was invented by the chemist Schoenbein in Basel in the c. XIX
If you had not been a scientist… what else? I don't know, maybe a photographer – I liked it when I was young.
Favourite destination: Tuscany (Italy)
A book: it's hard to tell a favourite, there're so many books! Among the books I recently read I particularly enjoyed the Neapolitan Novels by Elena Ferrante and '1Q84' by Haruki Murakami.
A movie: one that I think I can watch again and again and still find it funny is "Some like it hot"
A dream: since I like wine, owning a vineyard in a nice location in Tuscany would be a nice thing
Science is… an essential part of our world!