A success story of one ICIQ Alumni, former member of Echavarren Group, who recognizes that ICIQ Summer Fellowship Programme led her to top research institutions. Now she is following an industrial career, working in the Discovery Process Research at Janssen Pharmaceutica in Belgium.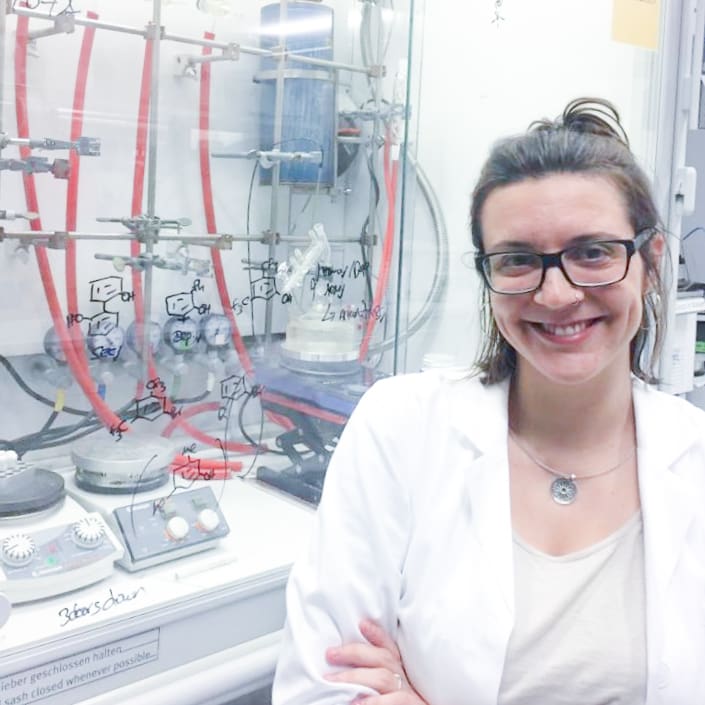 ICIQ talent transcends borders and embodies excellence. As we look forward to the upcoming Alumni Day 2023, we had the privilege of interviewing Dr. Carla Obradors, showcasing the remarkable achievements of our alumni. We wholeheartedly encourage all of you to join us in this in-person event scheduled next September 22nd, as it provides a valuable opportunity to reconnect, network, and celebrate our shared experiences. Don't miss the chance to see familiar faces and forge new connections at this exciting gathering.
Dr. Carla Obradors, born in 1987 in Manresa (Barcelona), was an ICIQ Summer Fellow in 2010 . Today she claims that this fellowship supposed a turning point in her life and career, opening her the door to high-level research institutes and centres. After her summer stage at ICIQ, she decided to do a PhD Thesis within the Prof. Echavarren Group in Organic Chemistry, followed by two postdoctoral stays in international and leading research centres: the Scripps Research Institute (California, USA), and the Max-Planck-Institut für Kohlenforschung (Germany). All of these experience led her to her current position as a scientist in the Discovery Process Research Department at Janssen Pharmaeutica, in Belgium.
What did suppose the ICIQ Summer Fellowship for your career?
It was a turning point in my life. It opened the doors for me to the highest-level research and to many new possibilities for the first time. I started then to expand my worldwide social network while learning something new every day.
How was your PhD Thesis with Prof. Antonio M. Echavarren Group?
The PhD Thesis is one of the most determining personal learning experiences I have had so far. I established the foundations of almost everything I have achieved since then, and I will always be grateful to Prof. Echavarren. He gave me much more than just chemistry knowledge: I gained independence and critical thinking skills, learned to contextualize my decisions and how to defend them.
What else did you take from ICIQ?
The great environment. At ICIQ you meet people from all over the world, with whom you share very important moments, and each one can bring you a new perspective on things.
How do you rate everything you have achieved professionally to date?
I am very happy with all the career stages I have chosen: from my experience in the USA, I acquired determination and in Germany, I would say I gained persistence by working with Benjamin List, who recently won a Nobel Prize in Chemistry.
What would you tell to chemistry degree students who want to become researchers?
I would tell that research is an extremely exciting job, but it can also be a roller coaster ride. When the results are not as you expected, you have to work hard until you solve the problem or find a new perspective. They should find what excites them and ask themselves questions as often as possible.
And for those who are unsure about the path they want to follow after their studies?
I would recommend to follow their curiosity. If they change their minds, they can also change their path.
What is it like to be a woman doing research in chemistry?
Being a woman in environments of excellence and in decision-making positions still represents being a minority. The status quo tends to undervalue the potential of diversity. In my experience, being a woman doing research in chemistry includes a point of loneliness in the lack of references and inclusion in discussion dynamics or communication flow. I have learnt to ignore certain criticisms or expectations while taking advantage of all the resources and opportunities I have found to carry forward my ideas until I validate my own hypothesis.
Have you felt the same way in every centre where you have worked?
It is not a unanimous attitude. I have been fortunate to work with many people who have trusted me immediately. In the end, chemistry is governed by results and when you work hard, recogniztion eventually follows. The most important thing during the process is to keep the "big picture" in mind and to listen to all contributions but never, ever, change your direction to try to fit in.