General description
"la Caixa" Foundation grants 60 Doctoral INPhINIT fellowships for talented early-stage researchers of any nationality to pursue their PhD studies in Spain or Portugal. This fellowships programme is aimed at supporting the best scientific talent and fostering innovative and high-quality research in Spain and Portugal by recruiting outstanding international students and offering them an attractive and competitive environment for conducting research of excellence.
The doctoral INPhINIT fellowships offer a highly competitive salary and complementary opportunities for training on transferrable skills through annual training sessions, incentives upon completion of the thesis, among other elements that make these fellowships some of the most attractive and complete in Europe.
This programme is divided into two frames:
Incoming: 30 fellowships for researchers willing to pursue PhD studies in research centres accredited with the Spanish Seal of Excellence Severo Ochoa, María de Maeztu or Health Institute Carlos III and Portuguese units accredited as "excellent" according to the evaluation of the Fundação de Ciência e Tecnologia. More information
Retaining: 30 fellowships for researchers willing to pursue PhD studies in any research domain and any university or research center in Spain or Portugal. More information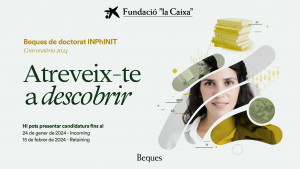 At ICIQ we offer 10 Incoming positions for different projects in the field of catalysis, renewable energies and computational chemistry.
Students within this program will have the opportunity of joining one of ICIQ's research groups to carry out one of the  research projects listed bellow.
OPEN POSITIONS:
Toward more sustainable synthetic applications catalyzed by earth-abundant first-row transition metal Systems – Prof Mónica Helvia Pérez Temprano
Catalytic Degradation and Recycling of Commodity Polymers – Prof Arjan W. Kleij
CO2 conversion towards sustainable fuels – Prof. Núria López Alonso
Development of Molecular Containers with Polar Cavities – Prof. Pablo Ballester Balaguer
Earth-abundant electrocatalysts for small molecule activation: water oxidation and nitrogen reduction – Prof. Jose Ramon Galan-Mascarós
Molecular redox catalysis for artificial photosynthesis and solar fuels: towards the mitigation of global warming – Prof. Antoni Llobet Dalmases
New Catalysts for the Bioinspired Synthesis of Bioactive Natural Products – Prof. Antonio M. Echavarren Pablos
Rapid detection of carbapenemases in multidrug-resistant microorganisms – Prof. Beatriz Prieto Simón
Rational design of photoactive nanorobots – Dr. Katherine Villa
Site-Selective Peptide & Protein Functionalization at Tyrosine Residues – Prof. Marcos García-Suero
KEY DATES
Deadline for submitting applications.
24 January 2024, at 2 pm Peninsular Spain for Incoming
15 February 2024, at 2 pm Peninsular Spain for Retaining
HOW TO APPLY:
For any questions or queries please send an email to: beques@contact.fundaciolacaixa.org
If you have any further questions, please contact gpr@iciq.es at ICIQ.
RULES:
For details of the grant, applications and selection criteria process, and other general questions, please visit the INPhINIT programme website.