Welcome to the home of the "Blau de Prússia" podcast!
ICIQ and Tarragona Ràdio have signed an alliance to co-produce the first chemistry-focused podcast of the Camp de Tarragona. All episodes will be broadcast on Tuesdays at 10 a.m. on a fortnightly basis and will last approximately 30 minutes.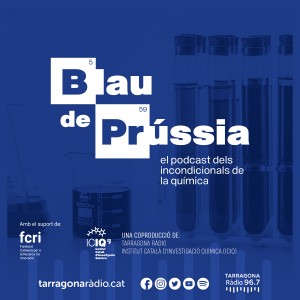 The "Blau de Prússia" podcast will be broadcast from the radio programme with the highest audience in the territory, La Veu de Tarragona. It's directed by journalist Josep Suñé with the technical support of Lluis Comes and audiovisual production by Andrés Tejedera. On ICIQ's side, the podcast is co-produced, guided and documented by Laura Hernández and Israel Macho. The main goal is to bring the people living in Tarragona closer to science and research. Together with Tarragona Radio, we want to stimulate knowledge among young people, dissemination and, above all, encourage future vocations in the world of chemistry.
The first season of the podcast was funded by the 2021 Call for Grants for the Promotion of Scientific Culture in Catalonia of the Catalan Foundation for Research and Innovation.
You can listen to the podcast throught these links:
Second season
First season: