Prof. Arjan W. Kleij, ICIQ's Group Leader and ICREA Research Professor, has been awarded with the prestigious 2023 European Sustainable Chemistry Award (ESCA) during the 6th EuChemS Conference on Green and Sustainable Chemistry (EuGSC). The conference, which serves as a leading platform for showcasing advancements in sustainable chemistry has taken place recently in Salerno, Italy.
Prof. Kleij is renowned for his outstanding contributions to the field of sustainable chemistry and has demonstrated a deep commitment to developing environmentally friendly and socially responsible chemical processes. His groundbreaking research has significantly advanced the principles of green chemistry and paved the way for a more sustainable future. Concretely, the award recognizes Prof. Kleij's world leading position in CO2 valorization and especially catalytic methods for the synthesis and applications of cyclic carbonates.
The European Sustainable Chemistry Award, conferred by EuChemS is an honor that recognizes individual scientists and teams who have made exceptional advances in promoting sustainability and innovation in chemistry. Prof. Kleij's work perfectly embodies the spirit of this award, inspiring and influencing chemists worldwide to adopt greener approaches in their research and industrial applications.
"I am truly honored to be recognized with 2023 European Sustainable Chemistry Award. Sustainability has always been at the core of my research, and I firmly believe that as chemists, we have a responsibility to advocate a positive change in the world. By embracing green and sustainable practices, scientists can create an impact for our planet and its inhabitants", concludes Prof. Kleij.
The 6th EuChemS Conference on Green and Sustainable Chemistry has featured and array of presentations, discussions, and workshops centered around the theme of sustainability in chemistry. The award ceremony, where Prof. Kleij received the distinction was one of the highlights of the conference.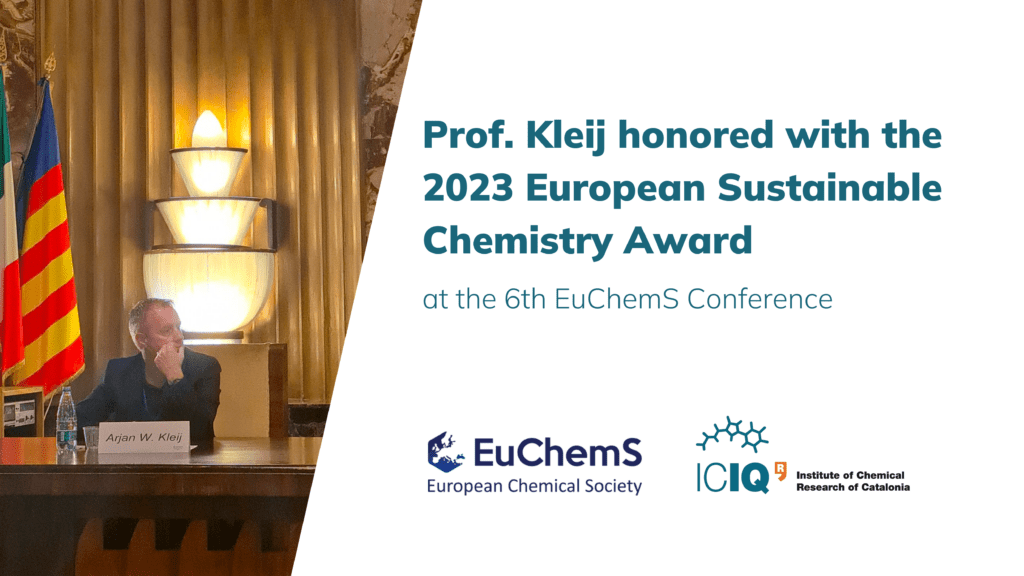 About Prof. Kleij:
Prof. Arjan W. Kleij joined ICIQ in October 2006 and was promoted to ICREA professor in 2011. His main research interests are in the area of CO2 valorization catalysis, the development of new reactivity using organic carbonates as modular precursors towards new engineering polymers and the use of renewable compounds and monomers in stereoselective transformations and polymer applications.
Notably, he was previously endowed with the 2020 Spanish Chemical Society Excellence award, elected a Fellow of the Royal Society of Chemistry (FRSC) in 2021, received the 2023 Catalan Chemical Society Excellence Award, and now adds the 2023 European Sustainable Chemistry Award (ESCA) to his distinctions.
With over 16.000 citations, an h-index of around 72 and 5 patent applications, Prof. Kleij has (co)authored more than 235 international publications during his career. He currently also leads the international EU-funded joint doctoral network D-Carbonize.