Prof. Llobet has participated as a lecturer in the 13th International School of Organometallic Chemistry (ISOC). ISOC's aim is to bring together young researchers (from both academia and industry) and distinguished European scientists as a contribution to the important goal of increasing the transfer of knowledge at a high level between different European countries and different generation of scientists.
To this end, the school gathered some of Europe's leading experts in organometallic chemistry to deliver talks to the young researchers under the theme "New Directions and Perspectives on Organometallic Chemistry." Prof. Llobet delivered the lecture entitled "Molecular anodes for green and sustainable energy applications," where he describes the preparation of efficient molecular water oxidation catalysts both in homogeneous phase and confined into solid conductive or semiconductive supports.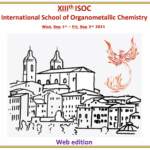 ISOC is organized by Camerino University under the auspices of EuCheMS (the European Association for Chemical and Molecular Sciences) and the Interdivisional Group of Organometallic chemistry of the Italian Chemical Society, and was held online from the 1st until the 3rd of September. The 13th edition of ISOC had a specific focus on the role of organometallic chemistry in finding solutions to many of the major societal challenges in the 21st century: from the development of sustainable energy solutions to the mitigation of climate change, from the synthesis of effective therapeutics to the production of new materials ranging from novel polymers to nanomaterials, and from the generation of industrial feedstocks to the remediation of the environment.