The Director of the Institute of Chemical Research of Catalonia (ICIQ-CERCA), Prof. Emilio Palomares, delivered a keynote conference at Fundación Ramón Areces in Madrid, Spain last Thursday March 2nd.
Prof. Avelino Corma, from the Scientific Comitee at Fundación Ramón Areces, introduced Prof. Palomares to the audience with his career and highlights, from his graduation in biology at University of Valencia until his current position as an ICREA Professor and ICIQ director.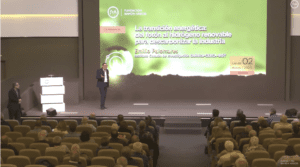 The conference was entitled "The Energy Transition: From the Photon to Renewable Hydrogen to Decarbonize the Industry".
It's a fact that we must replace coal, gas, nuclear power and oil with solar, wind and other renewable energies if we want to reduce carbon emissions. It is the biggest challenge we face, and nowadays there is no technology that allows us to live without these sources of energy.
Renewable energies are not constant and need storage, and for this reason they need hydrogen as a vector.
"We need the transition from fossil fuels to renewable energy sources to reduce carbon emissions and mitigate the effects of climate change," said Prof. Emilio Palomares. "Renewable hydrogen has the potential to be a game-changer in the energy transition and we are proud to be at the forefront of research in this area."
You can watch the full conference here and learn about the different strategies at the forefront of research (in Spanish, click below):