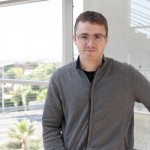 Prof. Ruben Martin, ICIQ group leader, has been awarded the prestigious Arthur C. Cope Mid-Career Scholars Award 2020, granted by the American Chemical Society (ACS). Established in 1984, the Arthur C. Cope Scholar Awards recognise excellence in organic chemistry over the trajectory of the recipient's career.
Prof. Martin's research focuses on the development of novel methodologies for the metal-catalyzed activation of inert entities with the aim of producing synthetically relevant molecules and has been awarded the Arthur C. Cope Scholar Award for his "contributions on method development, particularly on nickel-catalyzed carboxylation reactions with carbon dioxide and functionalization of C-O bonds," stated Dr. Bonnie A. Charpentier, 2020 President of the American Chemical Society.
Announced in the August 26th issue of Chemical & Engineering News, ACS has invited the recipients of the prize to deliver an award address at ACS' Fall 2020 National Meeting & Expo in San Francisco (California) on Tuesday, August 18, 2020. "This award is direct recognition to the incredible work performed by current and former members of my group.  I feel incredibly honoured and grateful to be recognised by this award, particularly when looking at the chemists that preceded me in winning the Arthur Cope Scholar Award, including my friend and colleague, Antonio Echavarren" says Martin.
Ten Arthur C. Cope Scholars are named annually, with recipients divided into three categories: two Early Career Award, for those with less than ten years of experience, four Mid Career Award and four who have 25 plus years of experience receive the Late Career Award. The award consists of $5,000, a certificate, and a $40,000 unrestricted research grant.
Prof. Martin is the second Spanish chemist to receive this prestigious award after it was granted to ICIQ group leader Antonio M. Echavarren in 2015. Other honorees are: Michelle Chang (UC Berkely); Debbie C. Crans (Colorado State University); Ben L. Feringa (University of Groningen); Miguel A. Garcia-Garibay (UC Los Angeles); Neil K. Garg (UC Los Angeles); Chuan He (University of Chicago); Kenichiro Itami (Nagoya University); Kenny M. Nicholas (University of Oklahoma) and Richmond Sarpong (UC Berkeley.)