The Chemistry Faculty of our partner Universitat Rovira i Virgili (URV) has launched the programme "Ambassadors of the Faculty of Chemistry of the URV," which aims to form a network of URV Alumni interested in channelling the promotion of the teaching and activities of the Faculty of Chemistry in their current workplace and residence, whether it is in Catalonia, Spain, Europe or the world.
Some ICIQers are already part of this community like Dr. Maria Méndez, postdoctoral researcher in the Palomares group, and Dr. Joan González Fabra, ICIQ Alumnus who did his PhD in the Bo group. They both attended the 1st URV Ambassador gathering, a first touchdown to meet other fellow ambassadors through a "speed networking" session and a "learning pill" that was focused on innovation. To Dr. Méndez, "the event was very interesting. I especially enjoyed the innovation "pill" and the afterwards discussion among the ambassador community. I feel that as scientists we are now starting to embrace innovation and I believe we still have a long way to go to become an innovative community."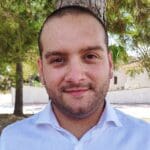 The programme also wants to become a platform to make visible the professional paths of its ambassadors through videos created by the ambassadors themselves. To Dr. González Fabra, who's now working at the European Parliament as an Accredited Parliamentary Assistant to the Member of the European Parliament Clara Ponsatí, "from the beginning I thought this programme was a great initiative. ICIQ and URV share a part of their Alumni community so it's good for both to grow the Tarragona chemical network and weave connections among their communities".
The only requirement to become an ambassador to the URV Faculty of Chemistry is to have graduated from the Chemistry Faculty (bachelor, master or PhD) and be part of their Alumni community. Ambassadors will be able to:
Participate in the dissemination of the teachings of the Chemistry Faculty
Share the activities of the Chemistry Faculty in your Social Media Channels
Give talks to students
Collaborate in videos explaining the work of the Chemistry Faculty
Send videos of your work to the Chemistry Faculty