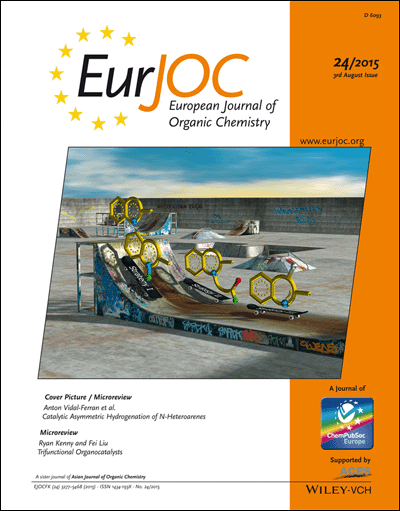 Substrate Activation in the Catalytic Asymmetric Hydrogenation of N-Heteroarenes
B. Balakrishna, J. L. Núñez-Rico, A. Vidal-Ferran
Eur. J. Org. Chem., 2015, 5293-5303
Different methods for transforming N-heteroarenes into more reactive derivatives for catalytic asymmetric hydrogenation are highlighted. The first strategy consists of facilitating hydrogenation by the formation of positively charged derivatives of the heteroarene. Catalyst deactivation processes arising upon binding of the substrate to the metal center can thus be prevented and, additionally, hydrogenation of positively charged heteroarenes may also be more favored than that of their neutral analogues. The second strategy is based on introducing a ligating group onto the substrate to assist its coordination to the metal center and facilitate hydrogenation by chelation assistance. The last strategy involves breaking the aromaticity of the heteroarene by inducing a double-bond migration process. This microreview summarizes advances made in the above strategies, which have allowed the development of highly enantioselective catalytic hydrogenation of N-heteroarenes for the production of fully or partially saturated chiral heterocycles.