ICIQ's podcast is recognised in the 'Best multimedia and transmedia content' category for the uniqueness of the content promoted
The outreach podcast 'Blau de Prússia' has been recognised by the "Xarxa Audiovisual Local" as one of the finalists in the 'Best multimedia and transmedia content' category of the Local Communication Awards 2023. The distinction values this leading content produced by the Institute of Chemical Research of Catalonia (ICIQ-CERCA) and Tarragona Ràdio, making it the unique chemistry podcast in Catalonia.
These awards recognise the creativity and talent of local media in Catalunya. ICIQ's podcast was chosen as one of the Best Catalan Podcast from more than 60 nominations from other local media on Wednesday, 14th of June, at an event at Roca Umbert in Granollers, during the Mercat Audiovisual de Catalunya.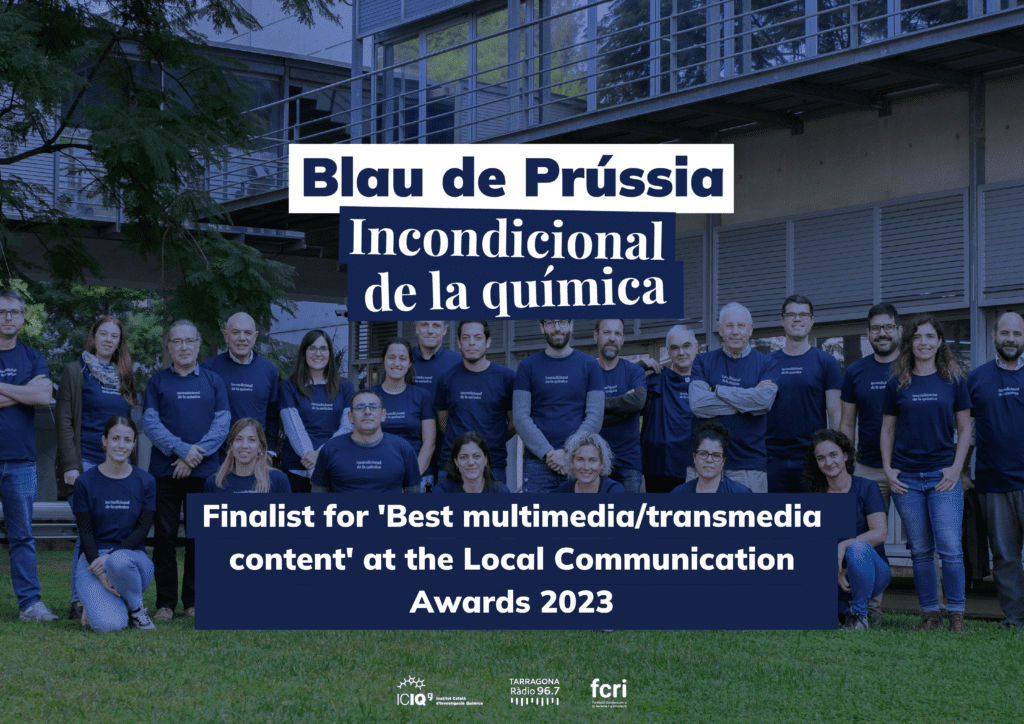 Dr. Laura Hernández and Israel Macho are the two ICIQers behind the podcast, which also features the participation of several ICIQ researchers and people in every chapter. The team also includes Lluís Comes, Andrés Tejedera and Josep Suñé form Tarragona Ràdio. This mixt of talents is one of the great particularities of the project. In fact, the involvement of journalists and chemists in the scripts and oral dialogues provides a multidisciplinary and comprehensive structure to the podcast, offering accessible yet reliable chemistry content about everyday life, social challenges, and global issues.
'Blau de Prússia' was created in 2022 with the aim of bringing chemistry closer to society. With more than 28,000 audience and more than 20 chapters available on online platforms, the podcast airs live every Tuesday morning at Tarragona Ràdio.
This significant recognition comes just one month later after being a finalist at 'Premis Sonor' of Catalan podcast. Great news that highlights the quality of 'Blau de Prússia' and its importance in making chemistry knowledge accessible to the general public.
'Blau de Prússia' will broadcast the fifth chapter of the second season dedicated to photoreactors and solar fuels, and their contribution to mitigate climate change, next Tuesday.