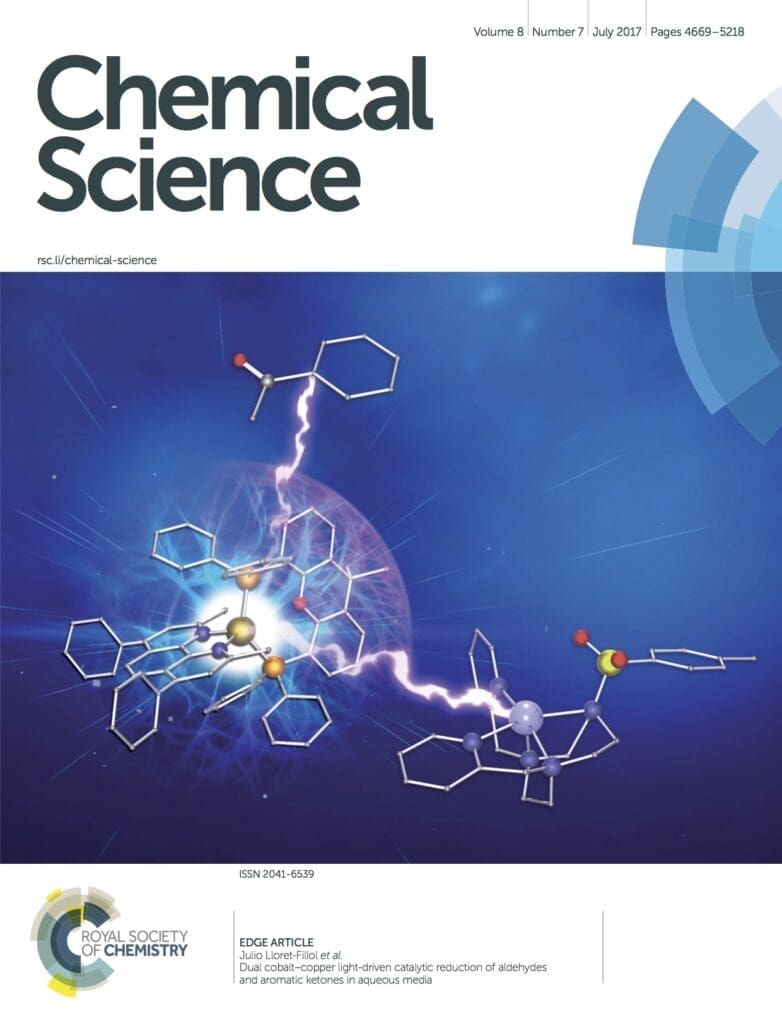 Catalysts for artificial photosynthesis mimic nature to get renewable fuels from CO2, water, and sunlight. But they also have applications beyond that – some of them can provide greener alternatives for common synthetic methods. In that spirit, a team led by Prof. Julio Lloret-Fillol developed a dual cobalt–copper photocatalyst that is able to selectively reduce aromatic ketones and both aromatic and aliphatic aldehydes.
This new method allows the reduction of a wide variety of aldehydes and ketones. It is greener than previously reported approaches because it uses earth abundant metals –instead of expensive alternatives like enzymes or noble metals– and can be carried out in water. Moreover, because the reaction is triggered by blue light (447 nm), it doesn't require high temperatures to work. Surprisingly, the system designed by Lloret-Fillol's team tolerates oxygen, which usually poisons earth abundant catalysts.
Besides, the cobalt–copper system presents a unique selectivity for the reduction of acetophenone over reactive aliphatic aldehydes, something unprecedented for transition metal catalysed transformations. To date, chemists had to rely on the Luche reaction –that requires stoichiometric amounts of cerium salts– to achieve such transformations.
Researchers also performed isotopic labelling studies, radical clock experiments, and DFT modelling in order to propose a mechanism, which suggest that cobalt hydride is one of the key intermediates. The team now wonders about the possibilities of this type of photocatalytic water reduction catalysts in the reduction of other organic moieties.
Dual cobalt–copper light-driven catalytic reduction of aldehydes and aromatic ketones in aqueous media
A. Call, C. Casadevall, F. Acuña-Parés, A. Casitas, J. Lloret-Fillol.
Chem. Sci. 2017, 8, 4739–4749, DOI: 10.1039/C7SC01276D.