ICIQ-Joint Units are an exclusive solution to companies that are looking for outstanding facilities to carry out R&D and synthetic activities. This collaboration constitutes a long-term partnership agreement between the company and the ICIQ, allowing accessibility to a fully equipped chemistry laboratory, in addition to free access to the institution Core Facilities.
The complete pack involves:
Access to fully equipped laboratories.
Space for 6 scientists.
Seven fume hoods.
Possible access to the ICIQ's Core Facilities, such as NMR, Chromatography, X-Ray Diffraction, Mass Spectrometry, Spectroscopy, High Throughput, Thermal Analysis, Electrochemistry, Glass Blowing Workshop, Mechanical Workshop and the Energy Lab.
This partnership constitutes a solution of particular interest for pharmaceutical, biotech and chemical companies which demand new high tech laboratory space. With this strategy, small, medium, and large companies can relocate or expand their research area and improve their competitivity.
Our previous partnerships
AICURIS (2020-2022)
Seven researchers working in medicinal chemistry in anti-infective drugs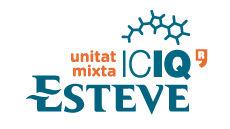 ESTEVE (2009-2020)
Six/seven researchers working in medicinal chemistry in pain-relief medicines.
HENKEL (2010-2019)
Six/nine researchers working in new curing reactions for high performance adhesives.