The Catalan section of the Spanish Royal Society of Chemistry (RSEQ) has awarded one of the 'Josep Castells' awards for best PhD thesis to former ICIQ PhD student Dr. Mauro Mato. His thesis, entitled "Streamlining the Access to Metal Carbenes through Aromative Decarbenations," was developed in the Echavarren group.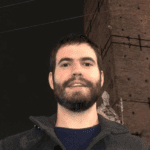 The Josep Castells award recognizes the two best PhD theses of the Catalan section of the RSEQ. The official ceremony will happen later this year at the Autonomous University of Barcelona (UAB). The ceremony will also celebrate the work of Dr. Mar Saladrigas (University of Barcelona), co-recipient of the Josep Castells 2021, and Dr. Silvia Osuna (IQCC – UdG), winner of the 2021 Marcial Moreno-Mañas Lectureship. During the event, the awardees will give a short talk and receive their diploma and a small economic prize.
Over the years, several ICIQers have received the Josep Castells award. In 2017 both awards went to former ICIQ PhD students Ruth Dorel and Ignacio Funes, while Santiago Cañellas received the award in 2018. In 2019 both awards also went to former ICIQ PhD students Cristina García Morales and José Enrique Gómez, and one of the 2020 awards went to Jesús San José Orduna.