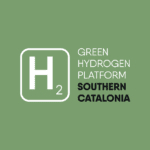 Hydrogen Valley Catalonia
May 6, 2021
Being adaptable is finding solutions to overcome challenges. Climate change is no trivial problem, with implications that permeate the whole fabric of our global society. By introducing the European Green Deal, the European Commission aims at turning climate and environmental challenges into opportunities, like constructing a green hydrogen ecosystem that can benefit all. Spurred by […]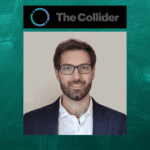 ELECTRA project: one step closer to market
May 5, 2021
Accelerating the knowledge transfer from academia into industry is of great importance to overcome the challenges our society faces. With this goal in mind, the ICIQ project ELECTRA has joined the 2021 Call for Technologies of The Collider, an innovation programme of the Mobile World Capital Barcelona that brings together scientific and entrepreneurial talent to […]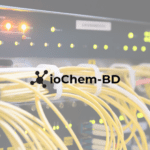 ioChemBD selected to use data services of the RES
April 27, 2021
ioChem-BD, a digital repository aimed to manage, store and publish Computational Chemistry Datasets, has been awarded storage capacity within the Spanish Supercomputing Network (RES) on its first call open to the research community. In this first call for data services, the Barcelona Supercomputer Center through the RES has granted 7,5 Petabytes of storage to 18 […]
Bravo Bruna!
April 26, 2021
Bruna Sánchez, PhD student in the Maseras group, has advanced to the semi-finals of FameLab, a scientific talks competition organised by Fundación Española para la Ciencia y la Tecnología (FECYT) and the British Council. "A few years ago, I was always nervous when I had to speak in public. But every step I've taken has […]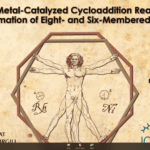 Congratulations, Dr. Llorente!
April 22, 2021
Nuria Llorente, PhD student under the supervision of Prof. Anton Vidal, has defended her PhD thesis entitled "Transition Metal-Catalyzed Cycloaddition Reactions for the Formation of Eight- and Six-Membered Rings" (assigned to the Organic and Analytical Chemistry Department of the Universitat Rovira i Virgili) publicly on April 22nd. The members of the evaluation committee were: […]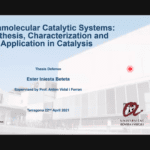 Felicitats, Dra. Iniesta!
April 22, 2021
Ester Iniesta, PhD student under the supervision of Prof. Anton Vidal, has defended her PhD thesis entitled "Supramolecular Catalytic Systems: Synthesis, Characterization and Application in Catalysis" (assigned to the Organic and Analytical Chemistry Department of the Universitat Rovira i Virgili) publicly on April 22nd. The members of the evaluation committee were Dr. Marta Elena […]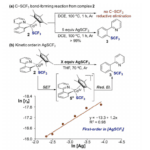 High-valent Cp*Co(IV) in C-H functionalization reactions revealed
April 19, 2021
A collaboration among the Galán-Mascarós, Maseras and Pérez-Temprano ICIQ groups has brought forth a strategy that uncovers how Cp*CoIV species are the real intermediates in Cp*Co-mediated C-S nucleophilic couplings. PhD student Sara López Resano, first author of the paper shares the results, published in Angewandte Chemie International Edition. What have you done? We set out […]