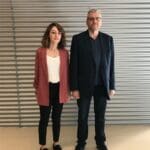 Congratulations Dr. Moneo!
December 18, 2019
Andrea Moneo, PhD student under the supervision of Prof. J.R. Galán-Mascarós (ICIQ) has defended her PhD thesis entitled "Bistable Molecular Materials: Triazole-based Coordination Chemistry of First Row Transition Metals" (assigned to the Department of Physical and Inorganic Chemistry of the Universitat Rovira I Virgili) publicly on December 18th at the ICIQ Auditorium. The members of […]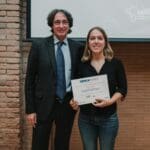 Ana G. Herraiz wins Pioneer Award 2019
December 17, 2019
Former ICIQ PhD student Ana G. Herraiz has won the CERCA Pioneer Award for her thesis: "New Carbon Reactivity Rules with Radical Carbenoids and Carbyne Equivalents Enabled by Photoredox Catalysis". "It's an honour to receive this prize as it recognises the work carried out during my thesis in the Marcos G. Suero group. It highlights […]
It's Cai, Dr. Aijie Cai!
December 12, 2019
Aijie Cai, PhD student under the supervision of Prof. Arjan W. Kleij (ICIQ), has defended his PhD Thesis entitled "Pd-catalyzed Allylic Substitution for the Construction of Quaternary Stereocenters" (assigned to the Department of Analytical & Organic Chemistry of the Universitat Rovira i Virgili) publicly on December 12th at the ICIQ Auditorium. The members of the […]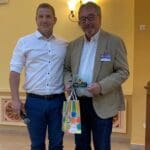 Miquel A. Pericàs awarded Iberoamerican Organic Chemistry prize
December 11, 2019
Prof. Miquel A. Pericàs, ICIQ Director and group leader, has won one of the Iberoamerican Organic Chemistry prizes awarded during the IV Iberoamerican Symposium on Organic Chemistry (SIBEAQO-IV), celebrated in Cayo Santa María, Cuba, from the 4th till the 8th of December. Together with Prof. Luis Echegoyen (University of Texas at El Paso) and Prof. […]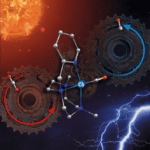 Enlightening how to escape bottlenecks in solar fuel production
December 11, 2019
"Learn the rules like a pro so you can break them like an artist" has inspired researchers in ICIQ's Lloret group to dive into the reaction mechanism of CO2 to CO reduction. Humankind has mastered the burning of fossil fuels, leading to a global climatic emergency. Now, to solve the energy crisis scientists need to […]
ERC Consolidator Grant awarded to Marcos García Suero
December 10, 2019
The European Research Council (ERC) has awarded Dr. Marcos García Suero, group leader of the CELLEX-ICIQ Starting Career Programme, with a 2 M € ERC Consolidator Grant to develop the project "New Carbon Reactivity Rules for Molecular Editing" (CARBYNE). The CARBYNE project aims to develop new carbyne-based catalytic strategies to achieve unprecedented transformations able to […]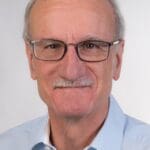 Face to Face with Andreas Pfaltz
December 4, 2019
Andreas Pfaltz was born in Basel (Switzerland). His grandfather – a chemist – often talked about the natural sciences and chemistry and those talks sparked Pfaltz's interest in science. He studied Natural Sciences at ETH Zurich where he also pursued his PhD in Organic Chemistry (1978) under Albert Eschenmoser's supervision. He then moved to Columbia […]