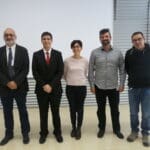 New Doctor at ICIQ!
November 23, 2015
José M. Marín Beloqui, PhD student under the supervision of Prof. Emilio Palomares, has defended his PhD Thesis entitled "Solution Processed Inorganic Semiconductor Solar Cells" (assigned to the Department of Electronic, Electric and Automatic Engineering of the Universitat Rovira i Virgili) publicly on November 23rd at the ICIQ Auditorium. The members of his evaluation committee […]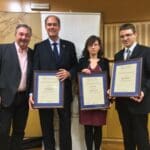 ICIQ group leaders gain distinctions
November 20, 2015
Madrid, Nov. 20th- The Spanish Royal Society of Chemistry (RSEQ) bestowed Research Excellence Awards on professors Núria López, Kilian Muñiz and Rubén Martín. Núria López, Kilian Muñiz and Rubén Martín received the Premio a la Excelencia Investigadora. The award recognizes the scientific achievements of the awardees in the last five years. Prof. López, ERC grant […]
Full house
November 20, 2015
The "Química en Família" workshop gathered children between the ages of 4 and 12 to experience what chemistry is about. The experiments prepared by Dr. Laia Pellejà, science outreach manger at ICIQ, showed how a polymer absorbs water in diapers; how vitamin C is also useful to erase texts written with betadine; why you can't […]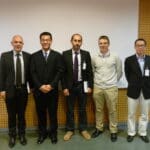 Congratulations Dr. Wang!
November 18, 2015
Xueqiang Wang, PhD student under the supervision of Prof. Ruben Martin, has defended his PhD Thesis entitled "Ni-Catalyzed Fixation of Heterocumulenes into Organic Matter and C-H Functionalitzation Reactions" (assigned to the Organic and Analytical Chemistry Department of the Universitat Rovira i Virgili) publicly on November 18th at the ICIQ Library. The members of his evaluation […]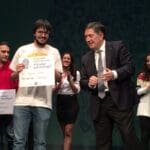 Sparkling chemistry
November 17, 2015
Ignacio Funes, PhD student in the Maseras group, won the first prize of the "Vols saber què investigo?" (Want to know what I'm investigating?) contest organized by the Universitat Rovira i Virgili (URV). The contest was held at Teatre Bartrina (Reus) and it counted with the participation of six other contestants. Ignacio did not only […]
Sustainable preparation of organic carbonates
November 17, 2015
Organic carbonates are compounds of industrial interest that have many applications such as their use as solvents in industry or as additives for plastics. In the last decade, highly efficient methods for the preparation of these carbonates using CO2 as a carbon source have been developed. These methods most often involve the use of catalysts […]
Supporting the next generation of chemists
November 4, 2015
They are young and chemists. A nice bond that announces a promising future. More than 140 PhD and postdoctoral students and researchers are gathered in Barcelona in the frame of the "Young Researchers Symposium XII of the Spanish Royal Society of Chemistry – Sigma Aldrich" (November 3-6, 2015). A conference for researchers under 40 years-old […]