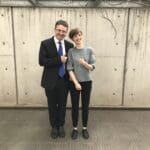 Congratulations Dr. Somerville, we're stoked!
February 13, 2020
Rosie Somerville, PhD student under the supervision of Prof. Rubén Martín (ICIQ), has defended her PhD thesis entitled "Mechanisms of Ni-Catalysed C–O Functionalisation and Carboxylation Reactions" (assigned to the Department of Analytical Chemistry and Organic Chemistry of the Universitat Rovira i Virgili) publicly on February 13th at the ICIQ Auditorium. The members of the examining […]
Women, Girls and Science
February 12, 2020
For International Day of Women and Girls in Science, ICIQ participated in different activities and events to empower women in science and promote female scientists as role models for future generations. 100tífiques: On February 11th, ICIQ hosted the central event of 100tífiques. The event gathered more than 120 children from the schools INS Sant Pere […]
Congratulations Dr. Ghaderian!
January 28, 2020
Abolfazl Ghaderian, PhD student under the supervision of Prof. Antoni Llobet and Dr. Carolina Gimbert, has defended his PhD thesis entitled "Ruthenium Complexes as Molecular Water Oxidation Catalysts" (assigned to the Department of Physical and Inorganic Chemistry of the Universitat Rovira i Virgili) publicly on January 24th at the ICIQ Auditorium. The members of the […]
ERC "Proof of Concept" grant awarded to Paolo Melchiorre
January 27, 2020
Prof. Paolo Melchiorre, ICIQ group leader has been awarded a European Research Council (ERC) "Proof of Concept" grant for the development of the Light-COAT project. With an economic endowment worth €150,000, Light-COAT aims to provide a new class of photoinitiators, which will be able to trigger polymerization reactions at room temperature and using visible light. […]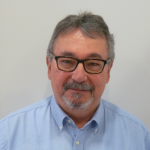 Miquel A. Pericàs New Member of the Reial Academia de Ciència i Arts de Barcelona
January 15, 2020
On December 12th, the General Assembly of the Reial Acadèmia de Ciència i Arts de Barcelona (RACAB) elected Prof. Pericàs, ICIQ Director and Group Leader, a member of this institution founded in 1764, which is devoted to fostering and disseminating science and its implementation in the technology and the arts. "It's an honour to be […]
Arjan Kleij joins the Editorial Board of ChemSusChem
January 9, 2020
Prof. Arjan W. Kleij, ICIQ's group leader has been appointed as a member of the Editorial Board of ChemSusChem. Kleij's research focuses on the development of more efficient catalysts for small-molecule activation, conversion and valorisation with a special emphasis on stereoselective transformations With an impact factor of 7.804 (2018), ChemSusChem is a top interdisciplinary journal for research […]